It all begins with a lost manuscript, a reluctant witch, and 1,500-year-old vampire. Dr. Diana Bishop has a really good reason for refusing to do magic: she is a direct descendant of the first woman executed in the Salem Witch Trials, and her parents cautioned her be discreet about her talents before they were murdered, presumably for having "too much power." So it is purely by accident that Diana unlocks an enchanted long-lost manuscript (a book that all manner of supernatural creatures believe to hold the story of all origins and the secret of immortality) at the Bodleian Library at Oxford, and finds herself in a race to prevent an interspecies war. A sparkling debut written by a historian and self-proclaimed oenophile,
A Discovery of Witches
is heady mix of history and magic, mythology and love (cue the aforementioned vampire!), making for a luxurious, intoxicating, one-sitting read.
The novel was originally released in 1983, and tells the story of a pet cemetary built on a Native American burial ground, which is home to a monstrous Wendigo.
Different Seasons
is a collection of four novellas, markedly different in tone and subject, each on the theme of a journey. The first is a rich, satisfying, nonhorrific tale about an innocent man who carefully nurtures hope and devises a wily scheme to escape from prison. The second concerns a boy who discards his innocence by enticing an old man to travel with him into a reawakening of long-buried evil. In the third story, a writer looks back on the trek he took with three friends on the brink of adolescence to find another boy's corpse. The trip becomes a character-rich rite of passage from youth to maturity.
These first three novellas have been made into well-received movies: "Rita Hayworth and Shawshank Redemption" into Frank Darabont's 1994
The Shawshank Redemption
), "Apt Pupil" into Bryan Singer's 1998 film
Apt Pupil
and "The Body" into Rob Reiner's
Stand by Me
(1986).
The final novella, "Breathing Lessons," is a horror yarn told by a doctor, about a patient whose indomitable spirit keeps her baby alive under extraordinary circumstances.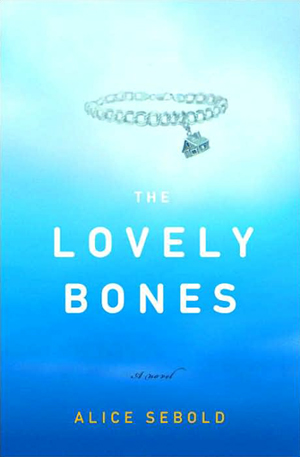 The Lovely Bones
works as an odd yet affecting coming-of-age story. Susie struggles to accept her death while still clinging to the lost world of the living, following her family's dramas over the years like an episode of
My So-Called Afterlife
. Her family disintegrates in their grief: her father becomes determined to find her killer, her mother withdraws, her little brother Buckley attempts to make sense of the new hole in his family, and her younger sister Lindsey moves through the milestone events of her teenage and young adult years with Susie riding spiritual shotgun. Random acts and missed opportunities run throughout the book--Susie recalls her sole kiss with a boy on Earth as "like an accident--a beautiful gasoline rainbow." Though sentimental at times,
The Lovely Bones
is a moving exploration of loss and mourning that ultimately puts its faith in the living and that is made even more powerful by a cast of convincing characters.
Expecting Adam
is an autobiographical tale of an academically oriented Harvard couple who conceive a baby with Down's syndrome and decide to carry him to term. Despite everything Martha Beck and her husband John know about themselves and their belief system, when Martha gets accidentally pregnant and the fetus is discovered to have Down's syndrome, the Becks find they cannot even consider abortion. The presence of the fetus that they each, privately, believe is a familiar being named Adam is too strong. As Martha's terribly difficult pregnancy progresses, odd coincidences and paranormal experiences begin to occur for both Martha and John, though for months they don't share them with each other. Martha's pregnancy and Adam (once born) become the catalyst for tremendous life changes for the Becks
The Seven Kingdoms have come apart. Joffrey, Queen Cersei's sadistic son, ascends the Iron Throne following the death of Robert Baratheon, the Usurper, who won it in battle. Queen Cersei's family, the Lannisters, fight to hold it for him. Both the dour Stannis and the charismatic Renly Baratheon, Robert's brothers, also seek the throne. Robb Stark, declared King in the North, battles to avenge his father's execution and retrieve his sister from Joffrey's court. Daenerys, the exiled last heir of the former ruling family, nurtures three dragons and seeks a way home. Meanwhile the Night's Watch, sworn to protect the realm from dangers north of the Wall, dwindle in numbers, even as barbarian forces gather and beings out of legend stalk the Haunted Forest.
In what's described as an "expanded edition" of Pride and Prejudice, 85 percent of the original text has been preserved but fused with "ultraviolent zombie mayhem." For more than 50 years, we learn, England has been overrun by zombies, prompting people like the Bennets to send their daughters away to China for training in the art of deadly combat, and prompting others, like Lady Catherine de Bourgh, to employ armies of ninjas. Added to the familiar plot turns that bring Elizabeth and Mr. Darcy together is the fact that both are highly skilled killers, gleefully slaying zombies on the way to their happy ending. Is nothing sacred? Well, no, and mash-ups using literary classics that are freely available on the Web may become a whole new genre.